Picture the sheer excitement of sparking your family's sense of adventure as you traverse the vibrant heart of the Belize jungle, where abundant wildlife, emerald-green foliage, and deep cultural roots intertwine. If this stirs up visions of your ideal family getaway, allow us to enrich your imagination further. Here, we present eight immersive activities to make your jungle escapade truly momentous.
1. Traverse an Ancient Maya Site
Embark on your adventure with a captivating journey into the past. Belize is sprinkled with numerous Maya relics, each standing as an impressive testament to this ancient civilization's grandeur. Stand in awe of these archaeological wonders, such as the towering edifices at Xunantunich or Lamanai. These sacred sites serve as real-life history books, providing a tangible glimpse into the past that will captivate everyone.
2. Indulge in Bird Watching
Belize is an ornithologist's dream, boasting a home to over 500 bird species. Guided bird-watching tours present an excellent opportunity to admire the nation's vibrant birdlife, ranging from the distinctive Keel-billed Toucan, Belize's national bird, to the enchanting hummingbirds. It's a serene yet exhilarating family activity that infuses education with the thrill of discovery.
3. Embark on a Night Safari Tour
The Night Safari Tour promises an electrifying adventure as the jungle's nocturnal inhabitants come to life. Equipped with flashlights, families can uncover the clandestine nightlife of the Belize jungle, bustling with fascinating creatures such as owls, kinkajous, and if fortune favors, perhaps even a jaguar.
4. Explore Gallon Jug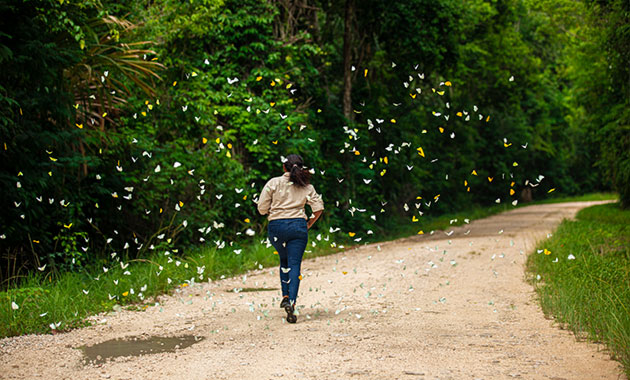 Gallon Jug, a sprawling 30,000-acre nature reserve, boasts a diverse ecosystem. A guided tour of this region offers opportunities to spot elusive wildlife and learn about sustainable farming practices at a local coffee plantation.
5. Delve into the ATM Cave
The Actun Tunichil Muknal (ATM) Cave calls for a unique, adventurous excursion. This archaeological site demands a combination of hiking, swimming, and caving and rewards you with a breathtaking display of natural formations and ancient Maya artifacts.
6. Venture on a Hiking or Walking Tour
Hiking and walking tours offer a close-up encounter with Belize's unrivaled natural beauty. A variety of trails to suit all fitness levels guides you through picturesque landscapes and gives you a front-row seat to the region's unique biodiversity.
7. Experience Horseback Riding
Gain a fresh perspective of the Belize jungle—on horseback. Guided horseback riding tours offer a delightful, leisurely way to traverse the terrain, suitable for both novice and experienced riders.
8. Opt for a Jungle and Sea/Beach Package
Rounding off your jungle exploration, treat your family to the stunning vistas of Belize's spectacular coastline. Choose a Jungle and Sea/Beach package, introducing your family to Belize's breathtaking beachfront locations—Placencia, Ambergris Caye, or Turneffe. These coastal gems boast vibrant coral reefs, crystal-clear waters, and pristine white sand, crafting the perfect finale for your adventure-packed holiday.
To enhance your family jungle vacation, we recommend the unparalleled Chan Chich Lodge. Nestled amid the lush landscape of the Belize jungle, this premium lodge strikes a perfect balance between comfort, luxury, and adventure. Its advantageous location serves as the ideal launchpad for your explorations, and its diverse accommodation options cater to families of all sizes.
At Chan Chich Lodge, relish the tranquility of your private cabana after a day filled with exploration. The lodge's amenities, which include a refreshing swimming pool and a gourmet on-site restaurant, ensure your stay is both comfortable and memorable. The experienced staff can help organize all the activities mentioned above, guaranteeing a seamless and unforgettable journey for your family.
Remember, vacations are all about fostering enduring memories. What better way than immersing your family in Belize's phenomenal biodiversity and rich cultural heritage? So, gear up for an exhilarating jungle adventure at Chan Chich Lodge and prepare for an experience your family will treasure forever.